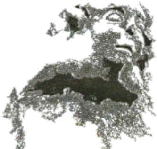 Apparitions
Somewhere in Angle-land, in the part even the English consider "angled", namely in that south-easterly corner of the island they call East Anglia, lies a village.
Its real name is not important, but we feel loth to refer to it merely as N, or X.
Therefore, and for our purposes, let it go by the name of Littlethorpe Quoddam, and why not, since local placenames in East Anglia are often ancient Saxon-sounding, like Shenfield, or equally frequently combined with Latin, like Bradwell-juxta-Mare.
Villages in East Anglia have long since ceased to be what we might envisage under the term village, because no true villagers live in them. The inhabitants of the little hamlet of Littlethorpe Quoddam have, for the most part, all kinds of normal civilian jobs in the nearby district town, to which they commute in their cars, or even work as far away as London, in which case they leave their cars at the station in the aforementioned district town and go on by train.
Quite a few of the residents do not work at all, having a so-called private income, shares, money salted away in the bank to the extent that they can live on the interest, and so on. Some of the locals do nevertheless make a living locally, like the postman, one or two shopkeepers, teachers at the primary school, the local Anglican vicar and a few minor dogsbodies linked to the households of the better-off: maids, gardeners, farmhands and a miscellany of others.
What we do not find are cows, hens, manure etc., as we do, or have come to expect in more common continental villages. Littlethorpe Quoddam does naturally have its "farm", something we might indeed call an Estate rather than a Homestead, but the cows, sheep and so forth which are raised there are not much in evidence, since they spend their time, year-round, in pastures beyond the village, in large, fenced meadows where they can be seen from a distance, decorative, producing no smells to speak of, or otherwise drawing indecorous attention to themselves.
Overall, Littlethorpe Quoddam resembles a kind of garden, where twee toy-house ornaments are scattered, apart from the fact that everything is life-size, the toy dwellings, their surrounding trees.
Pride of place among these delectable houses, some of which are enjoying considerable old age, or at least aspiring to it, goes to a relatively squat church, with its typical quadrangled tower, like the castle-piece of some variety of chess set.
This church, consecrated to St. Audoen, or Owen, the Bishop of Rouen, is very ancient, though it owes its present appearance largely to the beginning of the fifteenth century. This period also seems to account for its wooden vaulting, with polychromatic heads that peer out from the stone consoles, possibly caricatures of the good neighbours of the day, as unbeknown to us in Bohemia. But the tiny and narrow doorway to the sacristy and up into the tower gives away the fact that the main body of the church is considerably older, from a time when a man averaged in height not even the 150cm we associate with the late middle ages. In truth, some of the weathered gargoyle heads portend the thirteenth century at latest, albeit the sculptural carving above the main portal, however hard it tries to look gothic, unquestionably gives away its early twentieth century origin. Most probably there had been an earlier, disintegrating portal there, which was repaired and replaced with the neo-gothic one, faithfully crafted and indistinguishable from the original, or so they thought at the time. To today's eye the portal has something vaguely but undeniably art-nouveau about it, which firmly dates and labels it. Nevertheless, not only are the gargoyles and architecture original, original are also the remains of frescoes, gazing insipidly out of the walls, and a number of what must be original statuettes. Behind the pulpit, for instance, we have the Holy Trinity with a nicely bearded God the Father, holding a cross with an emaciated Son, but time has completely eaten away the dove-shaped Holy Spirit. The Tooth of Time can scarcely be blamed for the semi-disappearance of St. Margaret, yet it is she, judging by the delightful little dragon at her feet. It seems more likely to be the handiwork of the Puritans during the Civil War. Later periods have left some positive marks on the church, however.
In the right side-chapel is a nice commemorative headstone of some baroque man-of-means, shown dressed and kitted-out in the fashion of Shakespeare, his hand resting on a dead man's skull. From the still well-legible inscriptions we learn his name, date of demise, and that he was a Gentleman. From the explanatory plaque we complete the picture, learning that he was a Merchant, who made his wealth trading overseas, thereby funding his acquisition of the local Manorhouse.
The window behind the main altar dates from the last century, showing the miraculous progeneration of five loaves and two fishes, and then there is the twin-keyboard mini-organ, situated English-style at ground level in the main aisle.
The Light Eternal, burning in the gothic shrine in the wall there in the corner by the cross, the benches and the instruction book on how to conduct Holy Confession resting by the prie-dieu, and other similar clues, indicate that we are in the domain of Anglo-catholics, followers of the Oxford movement, the so-called "High Church". These would gladly make their way back to Rome, but dare not, for a number of reasons, tear themselves away so shamelessly, preferring to show their true sympathies more indirectly and timidly. In addition to the traces of incense, religious piety and overall churchiness one can also detect a warm mouldiness, specific to the damp climate of England.
The overall atmosphere of the little church is strangely calm and pleasant, which the many individuals who put their names, addresses and comments in the visitors' book on display here have never ceased to emphasise. Only occasionally does some hard-nosed Protestant express indignation at the indefinably Catholic feel of this Holy place.
Around the church is outspread the usual cemetery with unraised graves marked only by gravestones, scattered, overgrown by ivy and moss, and jutting out of the unmown grass. Pigeons and doves are calling in the trees, and the entire church and surroundings breathe a peculiar, unburdened and melancholy peace.
On this late afternoon in summer, while the sun peered in through the western window and reddened the gothic ornamentation on the main altar, a choir practice was underway inside the church.
A group of about ten men and women, of a dentiferously English middle-class appearance sat in benches on the right hand side of the altar-cage, while standing before them was the local regens chori, by daytime occupation - postman. For some reason it does seem ubiquitous in all of occidental Christendom that postmen lead church-music, and Littlethorpe Quoddam was no exception. The singers were issuing forth some kind of polyphony, in Latin, since the 2nd Vatican Coucil, something which would impinge on Anglo-catholics as well, naturally enough, had not yet taken place. On the contrary, the official and unofficial Catholic church followed the Motu proprio missive. The choir finished with a tortuous cadence on the final Amen, the choirmaster made various minor declamations and drew attention to the pitfalls of the forthcoming Sunday's performance, thanked the assembled and declared the practice at an end. Clearing their throats and talking in hushed tones the singers set about returning their scoresheets to the lady archivist, made their way out of the benches and to the main door, while the choirmaster switched off the motor to the organ and locked the rostrum lid. Through the small doorway leading into the sacristy the Anglican vicar, or "Rector" appeared, - John Smith - to give him the simplest name, and let's imagine him to be a little balding, blond, of middle age and height, with glasses and two large front teeth. Somewhat timidly he came up to a strongly-built, casually but expensively dressed man with a goatee who had been singing bass in the choir, and addressed him quietly in a creaky voice with effete overtones, as manufactured most notably by Oxford University:
"Richard, would you mind a drink with me?" - "Oh, not at all, old chap, not at all" replied the Richard in question, somewhat hoarsely, but a good octave deeper, whereupon he and the Rector left through the small gothic doors into the sacristy, and out, through another small doorway, into the cemetery. Richard, who was very stockily-built had to bend low and turn sideways to get through. Meanwhile the other members of the choir yabbered their way to the main entrance and likewise began dispersing to their homes.
______________
The Rectory, or vicarage, was also mediaeval and rambling, Reverend Smith must have felt quite lonely in it being unmarried and childless as befits an Anglo-catholic. The Verger's wife took care of his housekeeping and his evening meal, the garden was kept by the Verger, though they didn't live at the vicarage at all. The light of the dying day shone through the green shrubbery and the small windows with their diamond-shaped leaded lights, illuminating a mediaeval room with its low-set beamed ceiling and enormous fireplace, in which one could sit right by the fire. However, unless a fire was burning there, it functioned as the precise opposite, a kind of unpleasantly damp ventilation and clearance shaft, as though a chilly cave mouth gaped wide open into the room. The floor was of brick, here and there spread with insubstantial faded rugs, the walls yellowing white, altogether a sparsely furnished place. Reverend Smith sat by a large trestled table with his sizeable and arrogant guest, both sipping whisky from the appropriate tumblers.
A crystal glass decanter stood by on a side-table.
Intially at least, the conversation was politely sociable, including the traditional English subject of the weather, until finally the priest took the bit between his teeth and got to the point, in medias res.
"Richard", he said, "I presume you don't doubt my sanity, do you."
"Certainly not, old chap, certainly not," Richard answered jovially.
"After all, I've known you for quite some time now, and you've always struck me as the very paradigm of mental stability!"
Let us move on to the gist of the conversation that followed, without equally studious attention to its particularly English formulations, having, we hope, evoked the proper atmosphere and local colour.
"You see," continued the priest, "I think I may be starting to hallucinate."
"Surely not," said Richard, "you can rest assured that it's all just in your mind."
In Europe, doctors who incline toward psychiatry tend to be the philosophically and artistically minded, the speculative and comtemplative quacks, whilst in England they tend instead to be those too simple to manage ordinary medicine, since this comes to light less readily among the mad. This additional discrepancy between the Island Realm and the rest of Europe lies at the root of Richard's shallow and doltish reaction, being that of a Consultant Psychiatrist from a provincial mental institution not far from Littlethorpe Quoddam, where he was only domiciled, yet being musical, with a sonorous bass voice, also participated in sung worship at the local Anglo-catholic church.
"Well," the priest went on, "I'd like to think you're right, but I cannot be so sure. I've been having experiences, I've lost count how many, when I've been on my own like this, of an evening, and I've gone into the church. I've seen there, in front of the side-altar consecrated to the Virgin, where we have the Sanctissimum, I've seen this stranger, kneeling. Even when the church had been locked, so nobody could have come in by the door ahead of me. He wears a sort of uniform, kind of Germanic looking, without a cap on his head but the uniform is green and has a sort of blue stripe down the back. And sort of trouser-stripes on his leggins, also blue. He kneels there always looking at the altar, not moving his lips, praying to himself I'm sure. When I approach him he fades away - but if I step back, he's there again. He's there almost daily, he appears around eight and usually melts away after ten. For a while he stopped appearing, I was glad it was all over, but then he started appearing in the mornings instead. I don't think other people can see him, a couple of times he was there right through Morning Mass and nobody noticed him, it seems - I'm sure he would have caught their eye, here, in the village, with that strange attire. Do tell me, what can it be? Do you suppose I'm losing my mind?"
So Richard assured him that he did not think anything of the kind, although that was exactly what he was thinking. He addressed the priest in superficial and quite simple-minded terms to the effect that he was just imagining things, that it was all in his mind, and that if he was to stop thinking about it, it would surely pass.
He also mentioned that perhaps John might consider taking a break, somewhere abroad, where the sea is nice and warm, and that he shouldn't overindulge in the Oxford movement and should think about getting married at least. After all, the foremost authorities in psychiatry do maintain, you know, that mental imbalances (Richard did not say illnesses) are rooted in pent-up sexuality.
"If I were the Archbishop of Canterbury," stated Richard, the dignified psychiatrist, "I would rule that every Anglican priest must take a wife, and that would be that. You'd soon get over those mystical - er - proclivities."
He also prescribed some sort of Melleril and bad his goodbyes.
Reverend John Smith was left to himself, with the feeling that he had not learned anything, that he may just as well have avoided broaching the subject, i.e. he felt as nearly all sensible people do after a conversation with a Mental Health Expert.
______________
The curious apparition did not give way to Melleril, however, but continued with its peculiar regularity as day followed day, and then year followed year. Reverend Smith had become accustomed to the ghost and decided that the best thing might be to come to terms with its existence, without speaking of it to anyone else. When Richard came to mention it, asking how he was feeling and whether he still saw his apparition, John replied that he felt fine, and did not mention the apparition. In context, the inference would be that he no longer saw it and nothing haunted him any longer, although he had not denied anything, and so had not told a lie. This is something approved of by the Church, whether Catholic or Anglican or probably any other, and is known as being reserved or taciturn, reservatio mentalis in latin.
John progressively got used to the apparition to such an extent that on occasions when it wasn't there at the appointed time he became quite concerned about the spirit's welfare. It seemed as thought he ghost was undergoing change, like a flesh-and-blood being, impinged upon by the weather for example. In the winter he sometimes appeared in a kind of quilted tunic, as worn by soldiers on manoeuvres in Norway, as seen on television, the difference being that the ghost wore distinctive yellow stripes on his, as if daubed with acetone paint.
On one occasion the ghost came and went all night through, for three days in a row. Although it was winter, he wore only his normal thin green clothes with blue stripes, and was visibly feeling the cold, pale, shivering, his teeth chattering. On this occasion John stayed up all night in the church with him and prayed for his soul, for it seemed he might be suffering in Purgatory.
Following these three nights the ghost did not make an appearance for two or three evenings in a row.
At first, John was quite preoccupied with the ghost, but as time went by he got used to it. Initially he'd meant to keep a diary about the visitations, but then decided against it, for if someone had come across it he might well use it as proof that the Reverend John Smith is quite mad.
And so it went on, with the ghost appearing almost daily, either by evening or by morning, for nearly a decade. The came the 2nd Vatican Council and John adopted its reforms, as instructed by the Anglo-catholic Bishop.
He turned one of the side-altars toward the believers, to his own chagrin cut back Latin to a minimum, reigned in Chorales and polyphony and admitted imbecile guitarists to sing inane, unpoetical lyrics to loud and obscene sounds which excited and distracted instead of gathering up the spirit. Although he found it all difficult sometimes to the point of being unbearable, he knuckled under with all humility and even sought solace in it, insomuch as he was implementing the wishes of the Church of Rome, which he secretly espoused and belonged to, a Church guided by the Holy Spirit Himself through the saintly mediation of His Holiness the Pope, who, while passing ex cathedra judgement concerning the Faith and Morals, becomes infallible. Some of John's flock did not come through the reforms, falling away entirely or joining other creeds, but the mysterious uniformed ghost stayed loyal to St. Owen. But the most curious thing was this: He was an ageing ghost, one growing greyer and more wrinkled as time went on. He was about John's age and so they aged together, yet the ghost seemed always one step ahead. One day, to John's surprise, the ghost appeared in a civilian suit. His appearances continued for some time yet, but less and less so, with longer gaps in between and more briefly than before, and he was also less clear-cut, more transparent, more shadowy, until at last he stopped visiting altogether.
It is fair to say that John felt a little let down by the ghost's disappearance, he'd come to take him for granted, so to speak.
Nevertheless, he continued in his prayers for the ghost, whom he imagined to be a Soul in Purgatory, and also remembered him in prayers for the dead during Mass.
______________
So the years went by, until another twenty had rolled over. The Reverend John Smith was now an old man. Much had changed, the world seemed even more cruel and cynical than in his younger days, science had made discoveries more hostile to elements of the Christian Faith than ever before. But John Smith never felt he'd thrown away his life in servitude to something bogus, for his Faith remained unwavering, all-embracing, strong, alive and enduring.
He felt no regret at never having known a woman - he'd taken it all to heart, and really hadn't made that particular acquaintance - not only was he a committed Anglo-catholic, but luckily, hyposexual - his only regret was not having had children - but in this he bowed to the wishes of the Lord. As the years went by, bringing with them no sign of the dazzling mystical enlightenment he'd hoped in his youth to have arrived at by now, he nevertheless felt more mature, wiser, at peace with the world. Perhaps this was the enlightenment he'd hoped for - albeit less striking and less dramatic than he'd imagined it would be, eschewing in its very subtleness an appreciation of itself, of its own core nature and substance, yet it was within him. He knew not, and cared no longer to know for sure. He'd seen many tragedies and small hidden dramas in his little hamlet, and in these fates and fortunes the whole world was reflected as in a drop of water. Although he'd done hardly any travelling to speak of he understood the world and its workings fully now, as typified by the little microcosm of Littlethorpe Quoddam, he found in his own experiences a match for everything that he'd ever read in the works of ascetic and mystical authors: That the world is all Futility, Change, the Wellspring of Suffering, but has, paradoxically, a Beauty, Poise and Wisdom. Now, in observing a sprig of ivy on a gravestone, or a spider in his web in the nook of the old church, his soul drew these percepts in, grasping them in one intuitive act of cognition and experiencing a peculiar joy and melancholy, states of being which cannot ever be put into words, for no tongue is capable of describing them. His love encompassed all, the people in the village, however much they were petty and repulsive, nature, howsoever its beauty belied its cruelty, the sun, the rain and mist, the carouselling days and alternating seasons. But best of all he loved early autumn, with its ripening apples and the airborne strands of spiderweb glistening in the mellow sun, because this time best matched the overall disposition of his seasoning mind.
______________
And then one day in September it was just the kind of mild and bright day Reverend Smith loved so much. On that day, at around ten a.m. something bade him go inside the little church. The sun had just begun to slant in through the windows on the epistolic side, lighting up the pillars and aisle benches. Suspended in the rays of clear-as-crystal light were flying specks of dust, shining like stars in the depths of the universe. The indistinct solar reflections on the whitewashed walls highlighted their calcific graininess, lucent with pink, yellow, blue and green reflections. Everything bore the hallmark of granular, crisp, crystalline cleanliness; dry, aromatic, sweet and heartwarming. The church was empty and indescribably reassuring.
Reverend Smith entered the left side-chapel, aiming for the shrine in an alcove by the Altar to the Virgin, intent on making a quiet prayer before the Sanctissimo.
As soon as he entered the side aisle, however, he noted with displeasure that someone was already kneeling in the bench. He managed to suppress his feeling of displeasure immediately, as something wholly unchristian and selfish - why, everyone has the right to pray in the church - if he is denied solitude by it - so what - it is incumbent on him to put up with it for the good of all.
The faithful pleader was a sage like himself, white headed, glowing platinum where a spot of sunlight touched the top of his head. His shoulders were broad and slightly rounded, dressed in a tweed jacket. It was evidently not anyone from the village. Reverend Smith felt urgent curiosity to see the man's face, which he rationalised to himself as something prompted by the man's apparent need for spiritual solace or support, why else would he have come into a remote village church, lost among the fields, meadows and trees; it is up to him, he is bound by his office to look the praying stranger in the face, perhaps to find out, to know what to do, whether to do anything. Once having come up alongside the stranger's face he noted with surprise that this was his erstwhile ghost, his visiting apparition.
Yes, twenty years on, but it had to be him. All in a dream the priest approached the kneeling man: Now he'll vanish, he though to himself having reached that distance at which his apparition had always faded. But not this time. Gripped by fascination the priest encroached further, closer, until at last, forgetting his Englishness he reached out his hand and touched the kneeling stranger on the shoulder.
The shoulder was quite solid and he palpably felt the hirsute tweed, under it the muscled shoulder joint. Nor did the apparition dissolve, even now. The man turned his much-familiar face to the priest: "What is it?" he said in an English laced with some kind of foreign accent. - "Am I disturbing? Are you about to shut the church, then? I am sorry, I got lost - in thought: I have a special bond to this church, you see. You must be the local vicar, are you? - You may find it interesting, it is an odd story, I think."
The Stranger sat in the bench seat and beckoned to the priest to sit next to him. Still perplexed and fascinated, Reverend Smith sat alongside the unexpectedly materialised ghost.
"Excuse me." the Stranger said in his peculiar accent, which to the Reverend's ears sounded Italian or Spanish - with its incomplete reduction of unaccented vocals and its gravelly rolled r - "I should introduce myself. I am" - and a name which sounded vastly exotic and unpronounceable to the Reverend's English ear - "and I come from Czechoslovakia." As a true Englishman, the Reverend Smith had little idea what or where he was talking about - the news of the Soviet invasion of sixty eight had slid off him like water off a duck's back. Perhaps he didn't even know that the slip of paper which Chamberlain had brought over by air from Munich during his childhood, the paper everyone claimed had prevented a looming war - that this paper had anything to do with the said Czechoslovakia. Nor did he know that Shakespeare's Bohemian King Polyxenes and Prince Florizel had some connection to this Czechoslovakia, or how, or why it was all wrong in the play. He knew of Czechoslovakia as a far-off land, somewhere deep in the world at the edge of Asia, if not in Asia itself, quite possibly run by Communists, who no doubt got to power by the will of the majority in true and fair elections, and so, let them have what they voted for.
The stranger continued: "As a boy, in nineteen forty seven I came to England with a tour - the details are not important - and by chance I happened to stop by here, and in this church. It impressed me with its strange calming peace and beauty - more than any other church I know - for some reason. About three years later I was arrested by the then Stalinist communists, for political reasons, accused of things I hadn't done and which, in a civilised country, would not have been a crime even if I had - anyway, I was interrogated for a long time - they even resorted to torture, then tried and sentenced me to twenty years' hard labour.
During the interrogation custody I was too confused and scared to think at all clearly, but after a while once in the labour camp my mind began to settle and I resolved to survive that concentration camp. This meant I had to adjust to circumstances, both physically and, more crucially, psychologically.
I had read about Yogic exercises and it struck me that this might be a useful way to keep my mental balance while in prison. In the brochure I recall it saying that the practitioner should form in his mind the image of, or recall some place of beauty, peace and calm and to imagine intently that he is at that place - whenever he finds himself in surroundings or a situation which are both unpleasant and inescapable. This seemed like good advice. I searched my mind for such a place and, strangely enough, your church came to mind with uncommon clarity. Whenever I felt low, whenever I felt my nerves could not cope with being there, I escaped to the church in my mind. I always imagined myself kneeling here by this altar, nourished by the peace and calm of the church in this side-chapel. I used to do it regularly every day after work, or at other times as needed. Sometimes I imagined it all so vividly I felt as if I were here in actual fact, physically. I think it is no exaggeration, kind sir, that your church saved my sanity in those years. I was then released, there was an amnesty - the regime had changed a little, become more humane - but that would be too long a story, that would bore you - so I ceased making mental visitations to your church by and by.
Now, when I got the chance to visit England - I have some relatives here, émigrés - although some distance away - I couldn't resist the chance to come back here today. And I see it hasn't changed much at all .
Your church really did help me a great deal in those difficult years.
Allow me - allow me to, donate something - for repairs - for the upkeep of this place of worship," the man muttered and stuttered, reached for a smaller denomination banknote - "it, - it is a token - it is not much - quite out of proportion, but at least - as a symbolic gesture - Thank you! - Goodbye!"
The Apparition shoved the banknote in the priest's pocket, escaped out of the far end of the bench and before the reverend came to his senses he heard the main door slamming behind. The priest wanted to run after him, but before he had managed to scramble out of the bench he heard a car starting, and driving away.